By Gaby Dufresne-Cyr, CBT-FLE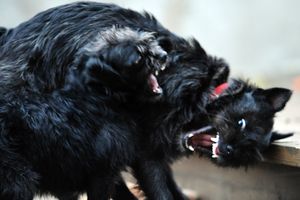 My answer to the article that passed on the CBC website (see sources) 
The rules, first announced last December, are aimed at preventing dog attacks and maulings. Really? Nowhere on earth where this type of law exists has there been a decrease in dog bites? 
Under the law, municipalities are required to enforce the province's regulations, which include ordering dangerous dogs to be euthanized. A municipality can also pass its own stricter rules. Montreal adopted its own bylaw in 2018. Please consult your own municipalities.
Doctors and veterinarians will be required to report dog bites. People will now avoid veterinarians or lie about what happened. 
If a person is bitten, the doctor who treats them has to tell the municipality about the bite. Fair enough, we do need that, but are municipal inspectors truly professionals, and can they actually assess aggressive dogs?
In the case of a veterinarian, if a dog that has been bitten is brought in for treatment, the veterinarian will be forced to report it. What good will that do? If no one knows the perpetrator, that's just inefficient. Most people involved in these situations just leave. Will the city or the province be hiring detectives? 
Dr. Caroline Kilsdonk, the president of the Quebec Order of Veterinarians, said vets can report bites that happen in the vet's office or waiting room. So stress and critical space invasion are reason enough to have dogs euthanized? Today, my dogs reacted to a dog who appeared from behind, silent like a hawk and entered our critical space while I was doing a training exercise. Under this new law, if the person complains, my dogs could risk the death penalty because an untrained vet or city clerk can decide if my dogs are aggressive or not.
She said vets will probably not report small bites that can happen during an examination since the dog can be frightened or in pain. Well, this is just another form of BSL. I am seriously against that. ALL bites should be reported then. PERIOD!!! 
"[But if] we're doing a basic manipulation and the dog bites four or five times, you know, it's not proportional," she said. "So that could be reported." Again, BSL!!! 
People who have aggressive dogs and seek out veterinary advice may also be reported if their dog has bitten before, Kilsdonk said. We now know what's going to happen. People will simply not ask veterinarians. People don't want to lose their dogs, so I predict vet visits will decrease significantly. 
Once a bite is reported to a municipality, the municipality will order an assessment by a veterinarian to see if the dog is actually dangerous. OK, this is where I have a huge issue. Since when are veterinarians equipped to assess aggression? Will they have to come with my clients and me on walks? Will they ask me what clients and I have been doing to address the problem? You are asking medical doctors to be professional psychologists and psychiatrists. This is the worst decision EVER. So many dogs are going to die. 
"Dog owners with dogs who bite will want help from veterinarians who are experts on dog behaviour," she said. "[But] there's a possibility that the veterinarian will have to report." Again, such a wrong decision. Regular vets received a weekend workshop on aggression and are now experts. Sorry, vet friends, but we both know that's just a flat-out lie. 
Dogs deemed dangerous will face restrictions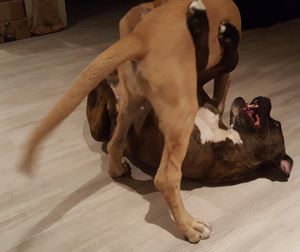 If a dog is deemed potentially dangerous, restrictions on the dog will apply. 
A potentially dangerous dog must be sterilized, microchipped and have all its rabies vaccines up to date. The dog will also need to wear a muzzle in all public places. I agree with this. It's just basic common sense. But what about enforcing leash laws??? 
The animal will also be prohibited from being alone with kids under the age of 10 without adult supervision. Why 10? The actual age should be 18. 
If the dog owner's home does not have a fence or does not have a fence that will adequately contain the animal, other measures will be required. There must also be a sign warning people that a potentially dangerous dog is on the property. I agree with this, too, because it's just common sense. 
If a dog is declared potentially dangerous in one municipality, the ruling applies to the entirety of Quebec. Sounds reasonable. 
Dominique Alain lost her triceps in after being attacked by three dogs last spring. The incident left her disfigured and left her arm weak. (Denis Gervais/Radio-Canada) If you're going to use scare tactics, at least write the circumstances of this situation. 
Dogs can be euthanized under specific circumstances. 
If a dog bites or attacks a person, leading to serious injury or death, the municipality can order that the dog be euthanized. With or without an evaluation? I'm assuming the latter. I have a question. Who will evaluate the dog? With only three veterinarian behaviourists (verified March 4, 2020 - see names below) for the entire Province, I wonder how Quebec will manage dog aggression evaluations?!  
A serious injury is defined as a physical injury that could result in death or "significant physical consequences" to the person. 
The rules also leave the door open to euthanasia if the dog presents a risk to the "health of public security" of the population. We have already seen this happen. If your neighbour makes a complaint stating your dog is dangerous, the city patrol (read non-professional person trained by another non-professional clerk) can decide if your dog lives or dies. WOW!!! That might open a Pandora's box. Wait, it did actually open just a few months ago.
What if an owner doesn't follow the rules? 
There are penalties for owners who fail to comply with the new rules. 
The owner can have their dog seized and be banned from owning or keeping a dog for a determined period of time. Let's get real here, "seized" and killed, you forgot the word KILLED!!! What happens if your dog bit you? As in the image to the left. Is the dog reported? Seized? Killed? Again, people will lie because they don't want to lose their pets.
Owners can also face hefty fines, up to $2,500, depending on the infraction. If an owner hinders someone enforcing the regulation, including by giving "deceiving" statements, the fine can go up to $5,000. Sounds good to me. 
Fines can also double if it applies to a dog deemed potentially dangerous. 
Will this actually make things safer? 
Kilsdonk, the president of the Order of Veterinarians, thinks so. She said there has been a "major improvement" in how governments tackle the question of dangerous dogs. Here, you need to read the sentence properly. The sentence talks about the government's actions, not an actual decrease in dog bites: "There has been a "major improvement" in how governments tackle the question of dangerous dogs." this translates to We, as bureaucrats, are doing good, but dogs still bite. All this political nonsense will do is build a data bank on dog bites. 
"There was some level of just letting things go, and some municipalities did not have any regulations. Some did not apply it seriously," she said. 
She said that most dog attacks in recent years took place in areas that did not have basic regulations for dealing with dangerous dogs. If there were rules in place, some of those attacks would not have happened, she said. Excuse me, if every municipality enforced leash laws, all this would be unnecessary. The vast majority of bites and attacks would not have happened if dogs were LEASHED. PERIOD!!! 
Kilsdonk also said there was some concern about how veterinarians are supposed to get in touch with their municipalities since every city and town will likely have a different system. Good luck with that. 
But she said she's optimistic that things will be better than they were before. Sweet dreams, people. USA doctors and vets have been obliged to report dog bites for decades, and guess what??? Bites did NOT decrease. 
"I think just the fact that now we will have a basic regulation everywhere … that there will be an improvement." Again, NO, there will not!!! The government and veterinarians need to get real. Seriously!!!  
Gaby's Two Cents. 
All of this means people will go underground, and some vets will accompany them. People will stop going to the vet because they will be afraid of a potential bite. With this law, dogs that are bitten will need to be reported, but what happens when these "bitten" dogs start to defend themselves? They will eventually be reported and die, too?? I'm so disappointed, not to say angry, about all this. This law was not the original proposal. 
The weekend workshop veterinarians received a few months ago on aggression is by FAR adequate knowledge to evaluate dogs and decide on the outcome of their lives. What happens if a veterinarian dislikes, not to say hates, certain dog breeds? I would like vets to contact me before they assess aggression cases; that way, I know it's done properly. Go to a vet behaviourist, you say. Turns out we don't have enough of them around; consequently, they are booked solid, sometimes months away. 
Maybe I should design a test for vets just to see if they are indeed qualified to assess aggression. 
So many things are wrong with this law... 
Cheers.
G.
Sources: 
Quebec's new dangerous dog law comes into effect today. Here's what you need to know. 
https://www.cbc.ca/news/canada/montreal/dangerous-dog-explain-1.5483630 March 3rd, 2020.
Ordre des Medecins Veterinaires du Quebec
https://www.omvq.qc.ca/trouver-medecin-veterinaire.html 
* Board Certified Veterinary Behaviourists in the province of Quebec:
Centre Veterinaire DMV, Montreal
- Isabelle Demontigny-Bédard
- Sabrina Poggiagliolmi
Globalvet, Quebec
- Martin Godbout